Big fish can't resist temptation!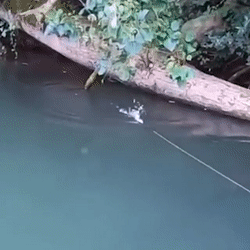 Durable ABS construction, reusable & environment protective swimbait,rigged with rust-proof sharp treble hooks, excellent puncture ability, strong abrasion resistant , to ensure the success of bass, and the head adopts a double loop design to further the success.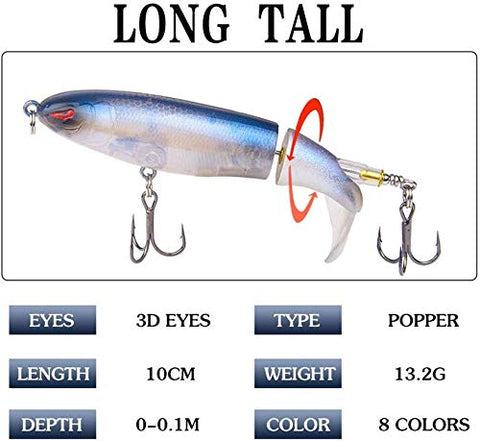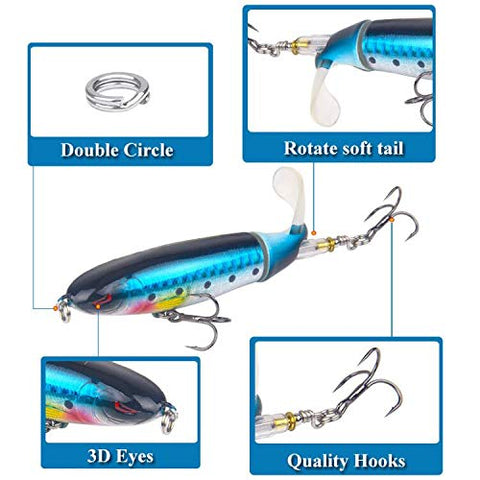 While it acts more like a buzzbait than a big walking topwater, it does have one distinct advantage over a buzzbait in that you can stop it and it will stay there. you'll also like that you can get it around a piece of cover and rip it and cause some spray without moving it too far out of the strike zone, especially in those cases where a fish might miss the bait.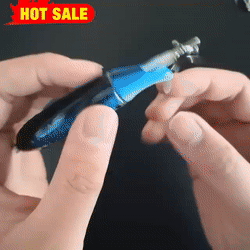 Artificial fishing lures with metal ball inside,control barycenter easily,cast far, with a jerking or steady retrieve the cupped tail, causes the hind end to spin around creating a turbulence in the water similar to a buzz bait,create noise and commotion that fish can not ignore.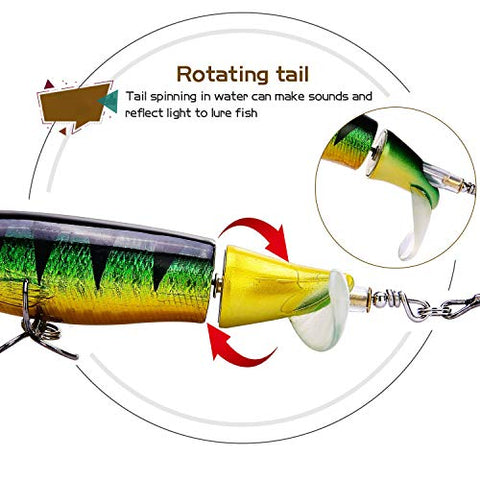 Perfect for ocean boat fishing,ocean rock fishing,ocean beach fishing,lake,river,reservion,pond and stream!Both for freshwater and saltwater Great for Bass, Perch, Panfish,Perch,Trout,even pike and salmon!This kit is best gift for your friends and families.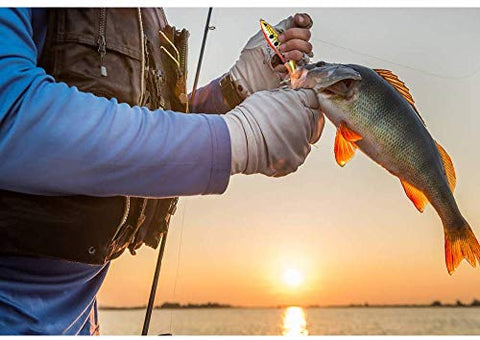 Bionic fish hook bionic Swimming Lure
THE BEST CHOICE FOR FISHING ENTHUSIASTS
This fishing lure can create life-like swimming actions in water, attract predator to bite. If you are a fishing enthusiast, take this lure and it will increase your catches and bring you much fun.
3D REALISTIC LOOKING EYES
LIFE-LIKE SWIMMING ACTIONS
MEET ALL YOUR EXPENTATION
FISHING LURE,IS YOUR RIGHT CHOICE
Choosing us is the best choice!
Scotamalone 6-segment multi-jointed body enable the hard fishing bait create life-like swimming action in water.

Easy to catch any big fish when they strike the lure.
Widely targets
Widely targeting at predator fishes such as bass, yellow perch, walleye, pike, muskie, roach, trout and so on.

Suitable for seawater and freshwater.
CUSTOMER'S IMAGES SHOW
STAY AHEAD AND MAINTAIN POSITIVE ENTHUSIASM, YOU CAN HAVE IT!
  3D realistic looking eyes and body make it a life like fish. Durable Plastic construction make it rigged with sharp treble hooks which makes it a powerful catching tool.After throwing,no matter you take it back slowly or quickly,it can show the ideal fluttering stroke.This fishing lure is Good ideal for Catching Saltwater & Freshwater Species.